Geranium Hanging Basket Care
We all seem to be looking for a way to simplify our lives from sorting through and clearing out gadgets we no longer need to whittling down our clothing collections to capsule wardrobes – all with the intent of spending less time on stuff and more time on the things we love to do with the people we love to do them with.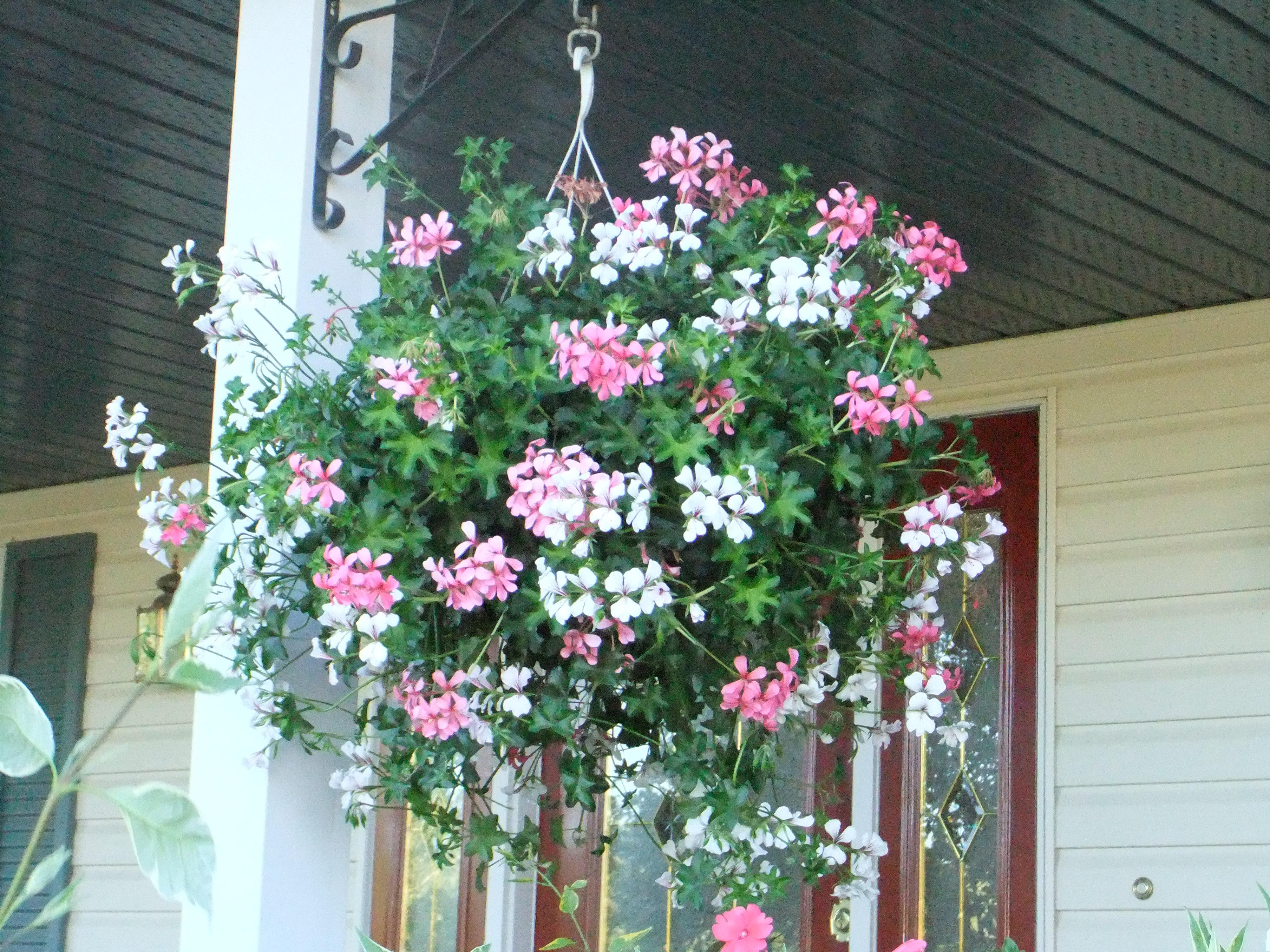 Applying this to gardening, Geraniums have a way of making life simple.  If you have an area that gets 6 or more hours of sunshine, this one is for you. They are easy to grow, they are hardy — hardy means they can take a lot of heat and they also bear with our cooler nights.  Never to be one that would recommend abusing or neglecting plants, it can be said that they can take an element of…let's say…"forgotten-ness"…on occasion.   But not every day.  They come back and revive well from being dry – but again, not every day.  They aren't sensitive like fuchsias, and they make a great entry-into-gardening plant.
We grow 2 classes of Geranium hanging baskets:
Trailing Geraniums
Mixed Geraniums
In Trailing Geranium hanging baskets, we plant and grow only trailing geraniums.  They cascade down and around the pot and many of them look like a huge disco ball (kind of) or let's say a big flowering ball. They come in a large array of colors from deep, deep reds to shades of pink, and now orange. Trailing Geraniums are really tough plants and are super easy to care for and hence, their steep rise in popularity over the last few years.  They excel in extreme heat and cold (not freezing) nights – there aren't a lot of plants that have that kind of range.  They handle the occasional 'drought' when they get forgotten in the watering queue and a number of them will handle high winds. Our blog Trailing Geranium Hanging Basket C-A-R-E  has even more detail on how to care for this type of basket.
Related:  The Ultimate Guide To Choosing The Right Hanging Basket
With mixed Geranium hanging baskets, we plant upright geraniums as the feature plant and then we fill in with trailers to spill out of the perimeter.  That's why they're called Mixed Geranium baskets. In this container configuration, the plants that you need to pay more attention to are the trailing plants.  They can be more sensitive to neglect, so keep a watchful eye on them.  Please visit our blog on Mixed Geranium Hanging Basket C-A-R-E to get the nitty gritty details on these baskets.
As always, we would be delighted to walk you through our collection of Geranium hanging baskets in our retail greenhouse and to help you simplify your life.  Nature's Source, the fertilizer we use, is our favorite.  Miracle Grow and 20-20-20 work well, too.
As always, we are happy to answer your questions either via our contact form on the website. or on the phone – yes, we still personally answer the phone – at 780-467-3091.
- Sharon Wallish Murphy