How To Take Your Garden To The Next Level With Climbing Plants
Think of your garden as an outdoor room or collection of rooms. Just like inside your home, rooms are spaces separated by some type of wall or boundary to give you a defined space and support its function. Your garden is your open concept floor plan, with traffic flow, easy sociability and communication, shared light, layout flexibility and multifunctional space. You can fill the space with plants to reveal a sense of enclosure, or restrict the planting to key areas to create an airy, open space.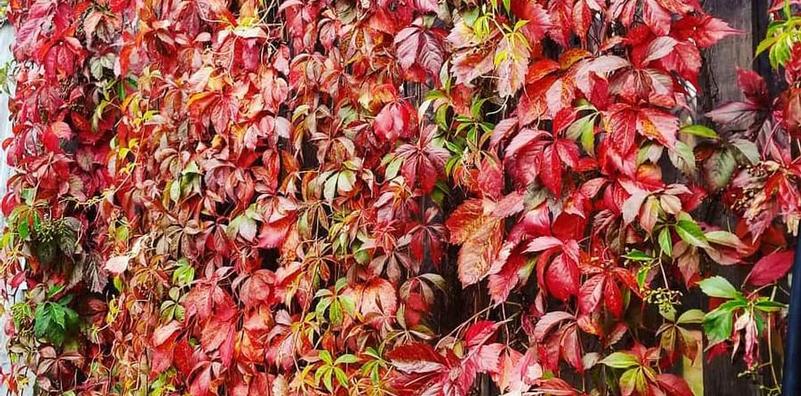 "Virginia Creeper" Parthenocissus quinquefolia
How will your outdoor room fit in with your lifestyle, and how much time will you have to maintain it? How will you use it?  Your answers to those questions will help you with defining your spaces and creating boundaries. Garden boundaries contain the area; provide a physical barrier to intruders, prying eyes, and the weather. You can either try to blend them in, or make a feature of them. You can integrate them with the materials you use and the surfaces and buildings.  
If your garden room is to be a calming retreat, your design elements or structures may consist of informal seating, a pergola, focal points, spiritual feature, gentle sounds, and relaxing water. Wind chimes and rustling grasses along with a trickling fountain are pleasantly distracting sounds that muffle surrounding noise. Choose sculptural pieces with flowing, organic lines for informal seating and use natural elements in your focal points. Screening plants like bamboos, strategically placed trees, and a pergola covered in Trumpet Honeysuckle will block overlooking windows while introducing heavenly scents, attracting butterflies and songbirds.  
About Aromatherapy in your garden
If your garden room is to be a space to entertain, your design elements might be dining space, privacy and shelter, food preparation, fire pit, and outdoor lighting. Your food preparation area might include a range of herbs growing in pots close by to enhance your cookouts. Choose dining and outdoor furniture that is weatherproof, comfortable, and practical, and remember to include plenty of outdoor cushions to convert steps, half-walls and raised beds into comfortable perches for extra guests. You can create intimate atmosphere with outdoor lighting, even weaving string lights through tall plants and Hops vine growing on your pergola or privacy walls. The Hops blooms exude a citrus fragrance and are attractive to butterflies. In the fall, once they are light and dry, they're ready to be harvested for your homegrown brew.
If your garden room needs to cater to the needs of every family member, your design elements would include play spaces, casual seating, raised beds, built in storage, private corners and wide paths. Your boundaries need to be secure and deal with potential hazards. Children need the freedom to run around, so choose a durable grass and build smooth pathways to accommodate tricycles. Provide special areas where kids can build forts or a tree house, and lose themselves in nature. A raised patio or deck creates a vantage point for adults to keep an eye on the children, conceals storage for toys and equipment underneath, and provides a climbing structure for a living wall of Clematis Jackmanii. Hummingbirds love Clematis!
When arbors are covered with climbing vines, it feels like you're entering a new world as you pass through. Make dramatic entrances to your garden rooms with decorative doorways. A metal arch with a Virginia Creeper trained over it sets the scene and provides visual interest long into the fall when its foliage turns shades of purple and crimson.
A unique focal point within the boundaries of your garden room that you can create with climbing plants is by using a dress frame trellis. You can even plant different vine types for the hem and the bodice, so that it would mimic a real dress. For the more traditional, obelisks with climbing plants make beautiful focal points in your garden as well. Whenever you mix textures and heights, you create interest and drama. The difference in form, petal and leaf shape, height, color and structural material all combine to lift your garden beyond the stratosphere.